Barbara Eskin was born in Germany and lives and works in the USA and in France.
Studies at the University of Mainz, Germany, and Middlebury College, VT
Teacher in Bremen (Germany), St Etienne and Evry (France) and Boston, MA
Art Classes at Woodstock School of Arts, N.Y. (USA),
Ecole d'Art et de Dessin de Fontainebleau (France),
Kunsthochschule Bremen (Germany)
Private studies with painter Frans Schuursma, Paris (France)
Shows
:
--Galerie Abeille, Avon, France (1994)
*
--Galerie Reinfeld, Bremen, Germany (1998)
*
--Goethe-Institut Boston, "About Time" (2011) *
--Galatea Fine Art, Boston, "The Scandal and the Beauty of It" (2014)*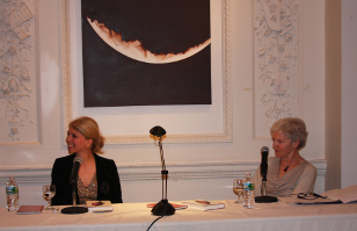 (Reading at the Goethe Institut Boston, with "about Time" as a backdrop)
--Apollinaire Gallery, Chelsea, "The Uncertainty of Being" (2011)
--Scollay Square Gallery, Boston City Hall, "Allston-Brighton Works" (2012)
--MCCA, Massachusetts Convention Center Authority, Neighborhood Show (2012)
--Galatea Fine Arts, Boston, "The Scandal and the Beauty of It" (2014)*
--Art Space Maynard, "An Abstract Language" (2015)
--New England Collective Juried Show (2015)
--Still Point Gallery, "Rectangles, Triangles, Circles: The Shapes of Life" (2015)
--UForge, "Abstracted" (2015)
--MCCA, Massachusetts Convention Center (2016)
--Arts Worcester, "Terra Firma" (2016)
--Galatea Fine Art, "The Net Reconfigured", (2016)*
*
individual shows
Paintings in private collections in France, Germany, UK and USA.
I am currently represented by Galatea Fine Art
Gallery
www.galateafineart.com
Comments:
"...Barbara's paintings (are) captivating and uplifting. They draw one into an unknown dimension, as if one passes through a magic screen into an enchanted world of shifting light, colour and energy. The range and varied intensity of the colours, the sense of lightness and the open-ended nature of the whole work have instant appeal and fascination and speak a universal language."
(Denise Outen, UK)
"...c'est magnifique, absolument magnifique! L'émotion poétique, la douceur et la tendresse colorée..."
("...it's magnificent, absolutely magnificent! Poetic emotion, gentleness and tenderness in colors...")
(Emanuelle Robinson, USA)
On "
ABOUT TIME
":
"Clean and evocative"
CJLori
"I want to build a house to house your work!" K.Bray
On "
Matter of Color
":
"The layers of color come forward and recede in space and time. I love the worked surfaces and play of color in relation to the canvas geometry." K. Nelson
"I love the layering and figuring out what's behind the next layer." (R.Jarvis)
"Very special to me." (R. Schine)
"Carefree but not complacent." (P. Duchnowski)
"Your work inspires my inner artist. Thank you for sharing it!" (A.VanHeuverzwyn)
"Just lovely work and energy. Beautiful!" (C. Stevens)
"Beautiful pure colors, like stepping outside after a storm as it starts to clear."
(B. Hancock)

On "This, That and the In-Between", or "Kairos":
"Absolutely gorgeous - form, color, movement." (M. Babcock and H. Seigel)
"This room holds the coolest mysteries." (M. Peterson)
"Great & free!" (A. Watkins)
"I really enjoy your work. It makes me feel a mix of emotions." (J. Records)
"Enlightening and active, yet guided by intellect." (H. Hoff)
On "The Scandal and the Beauty of It":

"Scandalous!" (J.F. Arens)

"Breathtaking!" (H. Campbell)

"Your work is filled with hope and joy and life - love it!" (J.A. Leinwand)

"Thank you for sharing the beauty of loss. I loved the pieces alone, and then more after reading your statement." (K. Dewull)

On "Net Works":

"Your nets actually feel freeing to me, rather than entrapping. Stunning."
(M.Sitomer)

"Intriguing!" (J.Ostrowsky)

"The use of netting mesmerizes me." (C. Lovey)

"Eine wunderbare Ausstellung. Jedes Jahr sieht man große Fortschritte, dabei wusste ich gar nicht, dass das noch möglich ist!"
("A wonderful exhibit. Each year one can see a lot of progress, and I did not even know that that was possible!")
(B. Bühler-Probst)
"Your work is mesmerizing." (A. Ishizaki)

On "The Net, Reconfigured":

"I love seeing how your new work brings forward so much from what it grew out of. Beautiful" (M. Stomer)

"Profound concept. "The Net, Reconfigured". (A. Puvvala)

"Your nets certainly caught my attention. Love the light, space, color, shapes you created in this environment, and of course the symbolism." (L. Medalo)