Barbara Eskin
---
Visual artist, painter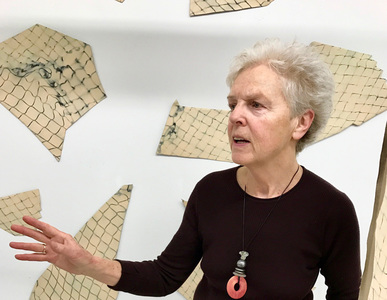 Barbara Eskin was born in Germany and lives and works in the USA and in France. Studies at the University of Mainz, (Germany), Middlebury College, (USA), Woodstock School of Arts (NY, USA), Ecole d'Art et de Dessin de Fontainebleau (France), Kunsthochschule Bremen (Germany), and with internationally acclaimed painter Frans Schuursma (Paris, France).
Solo shows
Galatea Fine Art, "still...Life" (2020)
Galatea Fine Art, "Systems Colliding - All in Pieces" (2019)
Galatea Fine Art, "The Net Reconfigured", (2016)
Galatea Fine Arts, Boston, "The Scandal and the Beauty of It" (2014)
Goethe-Institut Boston, "About Time" (2011)
Galerie Reinfeld, Bremen, Germany (1998)
Galerie Abeille, Avon, France (1994)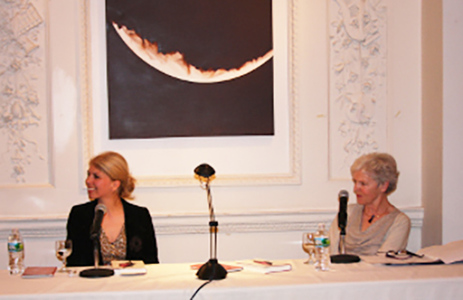 Reading at the Goethe-Institut (Boston, MA) with Barbara Eskin (right) and "About Time" as a backdrop
Selected group shows
"Remix: Appropriations in Art", Till Wave Gallery, Watertown, MA (2018)
"xsXL", Fort Point Artists Association, Boston, MA (2018)
"Abstract Systems", Wedeman Gallery, Lasell College (2017)
"Freedom of Expression", Cape Cod Museum of Art (2017)
Arts Worcester, "Terra Firma" (2016)
MCCA, Massachusetts Convention Center (2016)
UForge, "Abstracted" (2015)
Still Point Gallery, "Rectangles, Triangles, Circles: The Shapes of Life" (2015)
New England Collective Juried Show (2015)
Art Space Maynard, "An Abstract Language" (2015)
MCCA, Massachusetts Convention Center Authority, Neighborhood Show (2012)
Scollay Square Gallery, Boston City Hall, "Allston-Brighton Works" (2012)
Apollinaire Gallery, Chelsea, "The Uncertainty of Being" (2011)
Paintings in private collections in France, Germany, UK and USA.
Currently represented by Galatea Fine Art
Gallery
www.galateafineart.com
Founder, organizer and curator of "Shared Habitat Earth (SHE)"
www.sharedhabitatearth.org.
Since February 2022, 7 group shows with works by over 35 artists.